By Amber Mills.
Pilates, running, biking or lifting with a personal trainer may give you the physique you are after, but they will not strengthen your mind. Learning a new language or skill, playing brain or memory games and even meditation may help you strengthen your mind. But, how will you keep the scale in check? What good is having a strong body if your mind is weak!
No need to perform two separate workouts for brain and body. You can achieve mental alertness, improvements in memory, and quicker thinking along with toned muscles and a healthy weight by practicing hatha yoga.
Hatha yoga is a slow-paced mat practice that requires more concentration while moving through and holding poses, than actual physical effort in doing so. The focus and deliberation of the yoga student strengthens the brain and has been found to increase one's ability to multitask and perform tasks quicker and more accurately. The poses themselves create tone and length in muscles and have been shown to improve circulation and help maintain a healthy body weight.
In addition to mental alertness, a regular hatha yoga practice with focus on specific asanas (poses) can help alleviate sinus issues, infertility, anxiety, depression and much more. Also, as opposed to many strenuous exercises, hatha yoga is suitable for just about anyone—as every pose has a variation for specific injuries and ailments. In these ways (and many, many more) hatha yoga, by making room for the advanced fitness levels as well as the novice and helping to strengthen the body as well as the mind, truly lives up to its balanced name— "ha" meaning heat or sun and "tha" meaning cooling or moon.
References:
http://time.com/3148689/yoga-makes-you-a-quicker-better-thinker/
http://www.livestrong.com/article/404250-what-are-the-benefits-of-hatha-yoga-poses/
More about Audrey Farrell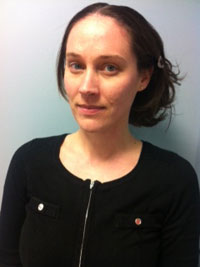 Audrey Farrell has practiced yoga for 15 years, becoming a Registered Yoga Teacher in 2009 and Licensed Massage Therapist in 2010. She practices these modalities in a variety places throughout Chicago including hospitals, acupuncture clinics and doctor's offices. She also teaches at the SOMA Institute and has been a guest instructor for Yoga Teacher Training programs. She left the banking industry in 2008 to join the Health and Wellness field. Audrey strongly believes in the mind-body connection, where pathologies of the mind can manifest in the physical being, and vice versa. Audrey is originally from Chicago, where she currently resides, and holds a BA in Psychology from the University of Wisconsin.