Massage Therapy and Health & Wellness Training
Where Body and Mind – Connect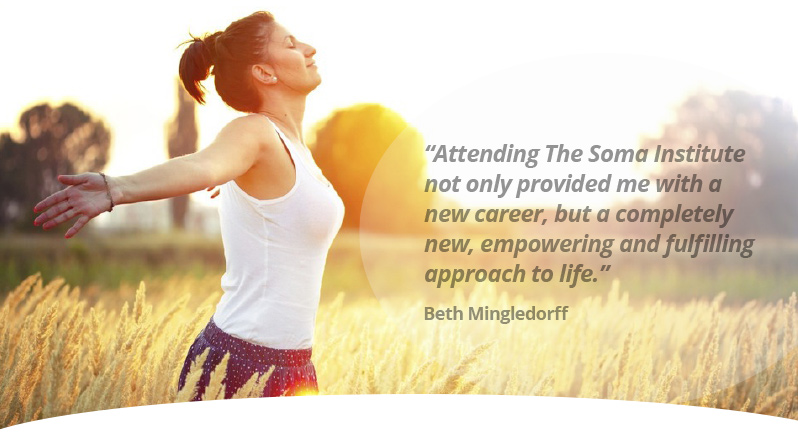 Focused instruction. Hands-on training, Practical experience.
If you're a compassionate person interested in helping others and living a life that aligns with your values and aspirations, consider a career in Clinical Massage Therapy or Health and Wellness Coaching.
A growing number of people are embracing a preventative approach to health. Opportunities in these fields are projected to grow as more people seek services like Massage Therapy and Health & Wellness Coaching to maintain active, healthy lives.
Our Programs
---
The Soma Advantage
Soma is the only school in the US that offers a Clinical Massage Therapy Diploma.
82.2% Placement Rate (as reported in 2015 to the Illinois Board of Higher Education. Soma, however cannot guarantee placement.) Our Career Placement team works with you to build your resume. Soma grads are in demand with employers. All Soma grads have access to our online job board.
Soma is a nationally accredited school.
Financial aid is available for the Clinical Massage Therapy Diploma program for those who qualify.
Our Massage Therapy programs are treatment and rehabilitation oriented – "massage with a purpose" – preparing grads to do a lot more than traditional Massage Therapists.
---
Want to hire a Soma Grad?

"Soma has an outstanding background with their clinical massage. I know every student that graduates from Soma has had a great education and has great experience in the industry."
Rendy Nelson, Fairmont Chicago MySpa
Submit a Job – Tell us about your job opening and we'll find some grads for you to interview.
View Job Board – Soma cares about its students' careers and assists them in finding work opportunities.