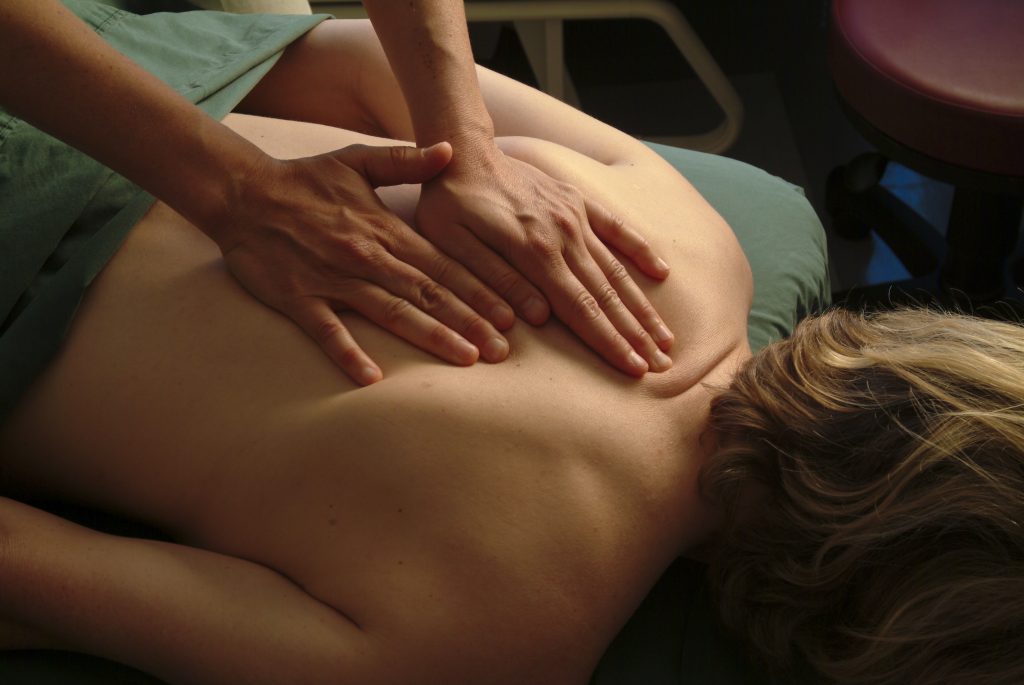 Clinical massage therapy can be an effective form of treatment and rehabilitation for many kinds of injuries, diseases and ailments. Clinical massage therapy is a kind of massage in which therapists use specific techniques to work on soft tissue in the body in order to strengthen those areas. This type of therapy is not only used to treat bodily injuries, but is also used increasingly frequently as part of treatment for people who suffer from post-traumatic stress disorder (PTSD).
PTSD is a psychiatric disorder caused by experiencing a particularly traumatizing event in one's life. Such events include war, sexual assault and natural disasters. People afflicted with PTSD often experience flashbacks of the event and can exhibit symptoms such as insomnia and feeling on edge. They often report feeling stressed even when they are not in any foreseeable danger. Contrary to popular belief, veterans of military service are not the only ones who experience PTSD. It is estimated that more than 5 million people ages 18 to 54 suffer from PTSD over the course of a given year, with women being more than twice as likely as men to experience the disorder.
Clinical massage therapy can have many benefits for those experiencing PTSD, such as the ones listed below. It is important to note, however, that clinical massage therapy is only part of the treatment and the effectiveness of therapy varies from person to person.
Reduction in Cortisol Levels
Clinical massage therapy helps reduce cortisol levels throughout the body. Cortisol is a naturally occurring hormone that is produced in the human body as a response to stress. People who suffer from PTSD have understandably higher levels of cortisol in their bodies.
The very virtue of human touch helps reduce stress and cortisol levels, which is part of the reason clinical massage therapy is effective. The reduced cortisol levels help relieve the patient's feelings of danger and hyperarousal.
Stimulate Release of Positive Neurotransmitters
While clinical massage therapy can reduce the levels of cortisol throughout the patient's body, it also helps stimulate the transmission of powerful neurotransmitters such as dopamine and serotonin. Dopamine is a neurochemical that controls the pleasure and reward centers in our brains, in addition to helping regulate movement and emotional responses. Serotonin, on the other hand, is also related to controlling one's mood, but also affects brain and body functions related to sleep, appetite and cardiovascular system function.
These neurochemicals are essential to our feelings of wellbeing and an increase in the presence of them can be triggered by clinical massage therapy, which helps ease the patient's anxiety and suffering. This kind of therapy can help level deficits caused by PTSD in those who are afflicted.
Reduced Physical Pain
Hypervigilance and hyperarousal are two symptoms that people who suffer from PTSD may have the misfortune of dealing with. Each of these symptoms has the very real potential for physiological tension throughout one's body. This is another area in which clinical massage therapy can be particularly effective.
The reduction of cortisol mentioned earlier can also help reduce the amount of the physical pain felt by people suffering from PTSD. Additionally, if a person suffering from PTSD sustained an injury as part of their traumatic event, clinical massage therapy can help relieve the pain caused by that as well.
Build Trust with the Therapist
For clinical massage therapy to work and be effective, it requires a level of trust between the patient and the therapist. Establishing this trust requires a clear and open path of communication. The therapist needs to listen to the patient to ensure they do not trigger any flashbacks of the trauma the patient experienced. One method clinical massage therapists employ is laying out what exactly the patient can expect over the course of the treatment. This limits the potential for surprises on the patient's end. Therapists also need to be mindful of other, non-touch triggers the patient may have, such as scents or sounds. Again, an open line of communication between therapist and patient is important.
Establishing trust between a therapist and a client with PTSD allows there to be a powerful healing relationship between the two. Building such a relationship can also help the patient learn to trust people if they are having trouble doing so in the wake of the trauma they experienced. Building such a relationship tends to take time and some patients are at different stages in their recovery than others. That's why it's important that the therapist pays strict attention to the needs of the patient and is willing to proceed at a speed that the patient feels comfortable with and does not overwhelm them.
Peace of Mind
Building off of a trusting relationship with a clinical massage therapist, clinical massage therapy can help people who suffer from PTSD achieve more peace of mind than they experienced in the aftermath of their trauma. The influx of dopamine and serotonin can help those who suffer from PTSD regain a sense of control when paired with psychotherapy.
Clinical massage therapy is often incorporated into the treatment of PTSD as part of alternative or holistic healing methods. Holistic, in this case, simply means comprehensive, or including all parts of a person.
Do you want to help people who are suffering from PTSD by building trusting relationships with them on their respective paths to normalcy? If so, you should consider enrolling in a clinical massage therapy program at a school near you.
Begin Your Clinical Massage Therapy Career at Soma
If you live in the Chicagoland area and are looking to start a career in clinical massage therapy, the Soma Institute might be the perfect fit for you.
At the Soma Institute, students learn clinical message therapy from experienced faculty who are well versed in the practice. The Soma Institute is dedicated to providing its students with the personal attention they need to master the art of clinical massage therapy.
The Soma Institute offers its Clinical Massage Therapy Diploma Program in a couple of different scheduling options to best accommodate prospective students. By attending classes two days per week, students can complete the program in 11 months. The alternative is attending classes on one weeknight and Saturday each week, which takes 15 months to complete.
The Soma Institute is proud to offer unique internship options to its students. Students have the opportunity to intern at the school's on-campus clinic, gaining meaningful experience under the watch of experienced supervisors. The other variety of internship the Soma Institute offers allows students to perform sports massage on NCAA Division I athletes at Loyola University Chicago. Additionally, Soma provides resources for students such as tutoring and assistance with licensure.
The Soma Institute's job board is a valuable resource for graduates and graduates-to-be, listing plentiful employment opportunities in clinical massage throughout the Chicagoland area and beyond in a variety of different settings. Students can browse openings in settings such as those discussed in this post and more!
Financial aid is available for those who are eligible. The Soma Institute also offers free tutoring services to its students.
Learn more about the Soma Institute and its programs or schedule a campus tour by visiting https://soma.edu/ today.