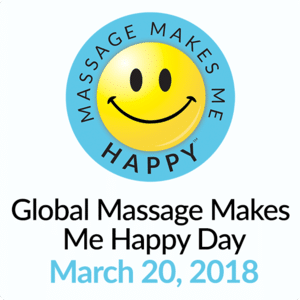 Mark your calendar-- March 20, 2018 is Massage Makes Me Happy Day! The MASSAGE MAKES ME HAPPY Initiative of the Global Wellness Institute aims to celebrate the healing powers of massage therapy and promote its benefits through research and education, advocacy and global awareness.
At The Soma Institute, we know that massage makes us and our students happy. We want to spread the word that massage has many therapeutic benefits that can allow people to live happier lives. Help support this initiative by treating yourself to a massage on March 20, and feel happier!
To learn more about the Global Wellness Institute, and Massage Makes Me Happy Day click here.