By Joan Hannant, Founder & CEO of The Soma Institute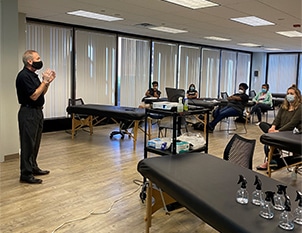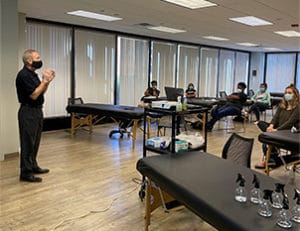 One year ago, things at Soma, and in life, came to a screeching halt. On March 16th, we shut down our institute and told everyone to stay home. In one way, it was an easy decision because it was the right decision. In another way, it was one of the most painful decisions I've ever made. Here at Soma, we are so proud of our ability to give people a fresh start, a chance at a better career and a better life, and suddenly, I felt like I was taking that away from our students.
What I didn't know then was how incredibly blown away and impressed I'd be with the resilience and creativity of our students and staff over the coming months. During the two weeks we were shut down, I worked to get state approval that would allow us to teach our classes online. It was quite an adjustment for everyone, but our students trusted us to give them our best, and we did. Teachers were incredibly innovative with figuring out not only how to teach online, something they hadn't done before, but also how to gain and keep the attention of the students. From plugging iPads into their laptops to purchasing new skeletons for anatomy lessons to creating white boards in their own homes, they adapted.
I have been so impressed with our students and their resilience. They never gave up! We're talking about students who had family members dying or suffering from COVID, students who lost jobs in other industries or had family members lose their jobs, students who battled homelessness, students with children whose schools and daycares shut down - it's truly incredible what they went through as they continued to show up for their education. By July 9th, we reopened for in-person education.
We embraced a hybrid model where core science classes are continuing online and the necessary hands-on education takes place in person. It took a lot of planning, including new rules and class structure and an investment in new equipment. We've had students in our classrooms since July, and we have not had any community spread. That would not have been possible without all students and staff fully buying in, and they have.
This pandemic has also really crystalized for me the importance of what we do at Soma. Many of the new students who have enrolled since the pandemic started have come to us because they didn't have anywhere else to go. In a recent class, almost every single student told me they came to Soma after losing jobs in other industries. My passion is helping students achieve independence and financial freedom through a rewarding career. That mission has never felt more important than it does now.
Massage therapists are in high demand because of all the additional stress and pain caused by this pandemic. I am thrilled to know that when our students leave Soma, they will have all they need to help people in a meaningful way while earning enough money to support themselves and their families.
One year ago, the future was very unclear. There are many things I'll never forget about this pandemic, but tops among them is the resilience of our students and staff.
Thank you, Soma family!