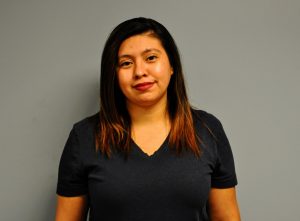 From Chicago, IL
Currently an office manager in a chiropractic office
What brought you to massage in general, and to Soma specifically?
I've always wanted to come to school to become a licensed massage therapist, and I got even more into it as I continued working in the medical field.  I was able to understand the topics more because of my experience with chiropractic and natural healing without meds.
Do you like having classes in downtown Chicago?
The transportation getting here is easy.  Waking my kids up early I don't like, but our schedules are the same now and I'm able to spend time with them, so I like that part.
Who are your biggest influences?
My influences are my biggest motivation ever: my parents.  They came here for a better life for them and me and my brothers, and I want to make them proud of me.
Anything else you want to add?
I'm happy that I'm attending Soma.  It's been a long run since when I first started.  I was working two jobs, I was being the mom of two kids, and I was attending here.  But I'm glad I made this choice for me and my kids.