By Joan Hannant, Founder & CEO of The Soma Institute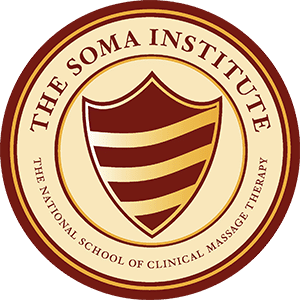 For many of our students, graduation is right around the corner. In a matter of days, we'll be hosting a ceremony that will be attended by students, friends and family. These are special times where they look back on the hard work they've accomplished and look forward to exciting career opportunities. It's an inspiring day, and a day that often forces me to take a step back and think about my own journey.
In 1998, I founded The Soma Institute with a group of like-minded, hard-working colleagues who shared my vision for a school that could change lives. Years earlier, that wasn't the plan. But I'm grateful every day for the path that led me to this point.
My first career was as a professor of economics and political science at York University in Toronto. I was taking some time off after the birth of my daughter when a friend reached out because she needed help proctoring exams for a few weeks at a massage therapy school in the area. Despite some initial hesitation to leave my daughter, I agreed to the job.
I knew nothing about massage therapy at the time, but I was immediately drawn in. I was fascinated to see people from all walks of life make a change in their careers and get into a non-traditional career in healthcare. I also learned the school did not have a strong academic curriculum, which I later found was typical in the industry. I wanted to help, and I was hooked. At the school's request, I began reviewing the curriculum and offering recommendations. Shortly after, I was invited to become a Vice President of the company that ran the school.
We made many changes in that first year, and then we began expanding. The owner had always wanted to open a location in the United States, so we began looking into it. When I saw the requirement for education at massage therapy schools in the U.S., I was shocked at the low standards. I knew we could bring a more clinical perspective to the schooling that would help students, future employers and customers.
I was motivated, and I made the decision to open a school in the U.S. with a few of my colleagues. I got offers to join established education companies, but none of them felt quite right. This was going to be my name on the line. At this point, we got our first break. A few connections led to a big meeting with a Canadian investor, and we won him over. To this day, I'm very proud of that successful pitch. Even today, women-led startups receive just 2.3% of venture capital funding.
Shortly after receiving the investment, we decided Chicago would be our first home. We were so naive at the time, walking around the city writing down numbers from building "For Rent" signs. Of course, as a brand new company, no one wanted to do renovations on a space without us putting a lot of cash down. At this point, luck struck again. The owner of one of the buildings we eventually looked at happened to be a big customer of our investor. He agreed to offer us a lease that included a complete buildout of the space without requiring a security deposit.
We were off and running. But, as I tell so many of our students who launch their own businesses, you need passion and drive because it's not all smooth sailing. That first year was rough. We built it and just assumed people would come. They didn't. But, we were passionate about the education we were providing and knew it was a great option for students. We began to get out the word, and students began filling our classrooms.
Our founding group eventually bought out that investor, and our Clinical Massage Therapy Diploma Program became a force. We're known around the country for the quality of education we provide. More recently, we saw an opportunity to provide training to health and wellness coaches, and our virtual Health and Wellness Coaching Certificate Program was born.
I couldn't be more proud of the way we created and have continued to innovate at Soma. Our school is providing a quality, science-based education in these fields. Decades ago, we knew this kind of approach would help students, and it has. We've had thousands of them come through The Soma Institute over the years, and their stories are as inspiring to me now as they were when we first started this school. Because as they go on and realize their dreams, I continue to realize mine.