By Joan Hannant, Founder & CEO of The Soma Institute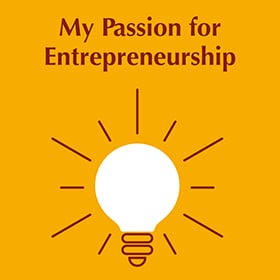 A recent student survey we distributed at Soma came back with some eye-popping results. 97% of our current student body hope to own their own business one day. 97%! That is almost every single student! This is incredibly inspiring, and it brings two of my passions together: education and entrepreneurship.
For decades, my passion for education has been fueled by a desire to help others and a fascination with people who are working to change their lives for the better. From my time as a professor of economics and political science at York University in the early 90s to my current role as founder and CEO of The Soma Institute, I've always been driven by a motivation to help and support students.
Entrepreneurship is also in my blood. I'm a founding member and board chair of the Women in Entrepreneurship Institute at DePaul University, where I regularly teach classes giving entrepreneurs advice and mentor startup founders. This year, the WEI partnered with the YWCA to launch an accelerator for Black women entrepreneurs.
I could not be more excited about the interest Soma students have in learning about starting a business, so today, I'm sharing a few strategies. Whether an entrepreneur is building a business around massage, Health and Wellness Coaching or a different type of product, like many of those at the Women in Entrepreneurship Institute, there are three important first steps.
Start with a growth mindset
Starting your own business is hard. Your top priority should be to adopt and maintain a growth mindset and to make all of your decisions from that context. You will face many obstacles that could derail you, but by keeping a growth mindset and focusing on what you CAN do, instead of what you can't do, you will persevere.
Work on your "only" statement
Entrepreneurs have to identify what makes their business special. There has to be something customers can ONLY get from you. Don't say good customer service because everyone says that. Who wouldn't? Ask yourself what you know about the market, your customers and your competitors. The answers to these questions can help you determine what makes your service or product stand out as you enter the marketplace.
Your business plan should include things like what your competitive advantage is and what your budget is. You need the details of your business in order before you start worrying about something like creating a website. Dig into each aspect of the business mechanics. Are there licensing fees you'll need to pay? Will there be a cost associated with building out a brick and mortar location? Will you be an employer or an independent contractor? Having a detailed plan will help keep you on track. The U.S. Small Business Administration is a great resource for developing that plan.
The good news for those 97% of Soma students is the health and wellness industry, specifically clinical massage therapy and health and wellness coaching, offers an ease with which people can become entrepreneurs. The startup costs are relatively low because you don't need to start with a brick and mortar location. You can visit people in their homes or workplaces. Even massage therapists with an employer often have private clients as well.
Entrepreneurship isn't for everyone, but it's exciting to consider your options, and Soma students have already taken an important first step. Nelson Mandela said it best, "Education is the most powerful weapon which you can use to change the world."