By Joan Hannant, Founder & CEO of The Soma Institute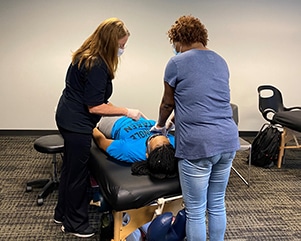 I  founded The Soma Institute for one big reason. I saw an opportunity to help people achieve independence and financial freedom through a rewarding career. I'm passionate about empowering people and giving them an education that provides career options and opportunity. I've long believed in the future of the health and wellness industry, and we are now at a fascinating and exciting time. Despite a pandemic going on now for more than a year, the industry is hiring.
A lot. Massage therapists are in demand, and that is a massive opportunity.
In a recent interview with Spa Executive Magazine, Vice President of Global Wellness, Spa and Fitness Operations for Marriott International, Kenneth Ryan, said the biggest challenge facing the industry is finding people to hire. It's not convincing customers of the value of a massage or cracking the code on marketing and advertising - it's finding people to give jobs to! Think about that. At a time when so many people are struggling or laid off due to the pandemic, there is an opportunity. Becoming a clinical massage therapist is a career choice, and when Ryan said it's important to help people see that and educate them on the benefits of a career in massage therapy, it was music to my ears.
Here at Soma, we don't need articles to tell us massage therapists are in demand. Every day we're talking to our contacts at places like Equinox, AIRE Chicago, Vive Therapeutic Massage, Asha SalonSpa and Fitness Formula Clubs (FFC) who are telling us they're looking for new massage therapists. An education is a vehicle to a better future, and we're committed to doing everything we can to help our students succeed. Because of our great relationships with employers across the area, we get about 15 calls every single week from businesses asking us to send them our graduates. Many of our students get job offers or callbacks on applications the same day they send them in. Local employers are constantly updating our job board with new opportunities. We've even had them offer to give our students gift cards just to get on their radar so they are top of mind when the student graduates and is considering the options in front of them for launching a career.
There are numbers out there to back up what we're seeing. According to the Labor Department, employment of massage therapists will grow 21 percent over the next 10 years. That's much faster, they say, than the average career. A recent New York Times article highlighted massage therapist as one of five health care jobs on the rise. People have placed a renewed emphasis on wellness. Employers are working wellness services into employee benefits. More health care providers are witnessing and understanding the benefits of massage. This is an exciting time to get in on a career that is growing rapidly.
To me, the most exciting part of this demand is who it creates opportunity for. Anyone! We've worked hard to make our Clinical Massage Therapy Diploma Program accessible. We train high school graduates who didn't go to college, but who want something more. We train seasoned professionals who have decided they want to make a career change because they're passionate about helping people and want more control over their career. We train people who get into massage therapy because they want to open their own business. And so many of them do! A career in clinical massage therapy is an amazing opportunity for anyone. And right now, in this industry, opportunity knocks.