By Katie Tafel, Health and Wellness Coaching Program Director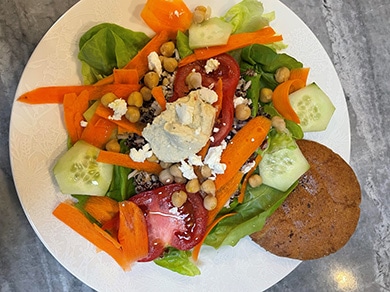 Our Health and Wellness Coaching Certificate Program takes a holistic approach to health and wellness. There are so many aspects of a person's life impacting their overall well-being, and a big factor is nutrition. Our instructors will tell you many of the clients they coach have goals or improvements they want to make when it comes to what they are putting into their bodies. They want to be their best selves, and they know food is a big part of that.
From working specific types of food into a diet to making healthy substitutes for common ingredients, we cover it all. And one thing everyone loves are practical and healthy recipes. Power bowls are one amazing option.
I love power bowls because they are easy to prep. You can prepare the vegetables and bases ahead of time and throw them together to make quick and easy lunches for an entire week. You can also give yourself some variety without much effort by changing up the sauces you put on the bowls. How can you get bored with variations like romesco dip, pesto, tzatziki, chimichurri, buffalo sauce and more?
Power bowls are not only versatile, they're healthy. Adding them to your diet is a great way to make sure you're getting extra vegetables and grains to keep you energized and feeling full for a longer period of time. Take a look at 4 delicious options below, and begin your prepping now!
Four Power Bowl options to keep you energized and full
Italian Style
Base: Quinoa, arugula
Protein: Garbanzo beans
Tomatoes, mozzarella, bell peppers and a squeeze of lemon, balsamic glaze and a pesto sauce
Asian Fusion
Base: Jasmine rice
Protein: Tofu
Broccoli and carrots, top with scallions, toasted cashews and teriyaki sauce
Mexican-Inspired
Base: Brown rice, romaine
Protein: Chicken or ground turkey
Bell peppers, onion, top with salsa, cilantro (optional) lime and avocado. Greek Yogurt is a healthy addition.
Mediterranean
Base: Quinoa, arugula
Protein: Garbanzo beans
Feta, olives, red onion, cucumbers and tomatoes, top with a squeeze of lemon, mint and parsley