By Mike Hovi, Program Director at The Soma Institute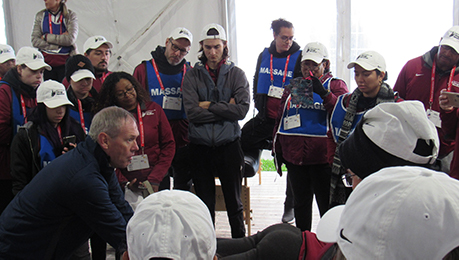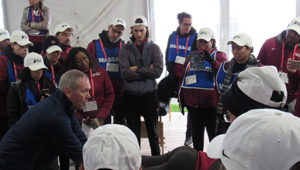 I love sports. For most of my life, I've watched them and played them, and for the 12 years I spent as a high school teacher, I coached them. It's always been important to me that I stay involved in sports, but when I got involved in clinical massage therapy, I had no idea the amount of opportunities it would open up.
My first big break happened when I got hired to work with dancers from the Broadway show, "Riverdance." They came through Chicago twice in 1998, and I had the privilege of working with the dancers both times. It was an incredible experience.
A few years later, when I heard they were looking for massage therapists to work with athletes at the 2002 Winter Olympic Games in Salt Lake City, I decided to give it a shot and apply. After writing a letter, doing a phone interview and a background check, I was in! I worked in the Olympic Village helping athletes and coaches from any sport and country. That was only the beginning of my experience working with the best athletes in the world, because I was also selected to work the 2004 Summer Olympic Games in Athens, Greece. In Athens, I worked on 74 athletes and coaches from 34 different countries and 17 different sports.
I love sports massage because it's a way to help athletes perform better. In the end, that's what it's all about for them - performance. Many of my students at The Soma Institute get into sports massage for the same reason. Some of them are athletes themselves, like I was, who want to stay involved in sports and the top levels of competition.
At Soma, we provide that opportunity. The education our students get is second to none, and it's well known in the sports massage field. We have a longstanding partnership with Loyola University where our students provide sports massage to the athletes, including the basketball team who has made a few well-known runs in the NCAA Tournament. Our students and graduates have also worked the Chicago Marathon for several years, providing medical massage.
Many of our students who participated in these same programs while at Soma have gone on to amazing careers in sports. We have graduates who have worked with professional athletes from just about every major sports team in Chicago, including Chicago Cubs players, Chicago White Sox players, Chicago Bulls players, Chicago Bears players or with the Chicago Wolves hockey team. I recently talked to a former student who had just signed a contract to work with professional tennis players at a Women's Tennis Association event in Chicago.
It's truly amazing watching these students see the impact of their training as they provide relief for athletes. I watch as they blossom from frightened helpers to trusted caregivers for some of the best athletes in the world. Sports massage has opened up a world of opportunities for me, and it is incredibly exciting to watch it do the same thing for our Soma graduates year after year.