By Joan Hannant, Founder & CEO of The Soma Institute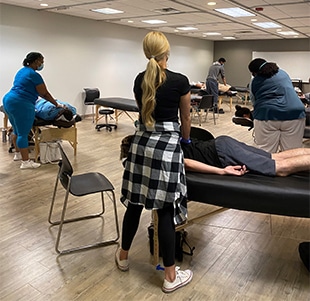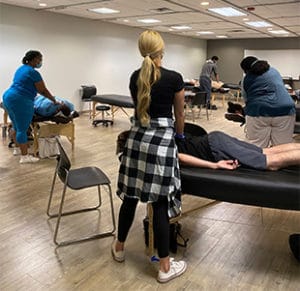 You know what feels good? Helping other people. For years, I've known this is part of the draw for students that come to The Soma Institute. They all have a desire to help others. And I've seen how helping other people uplifts our students. It's a feeling and a reward with a huge payoff at a time like this.
Our community is made up of people from all backgrounds and all walks of life. While they all have different life experiences, they are all helpers.
It's hard to put into words how inspiring it is to look around our building every day or to read the emails from our graduates and see this desire to help others exhibited time after time. It can be hard to focus on helping other people when the pandemic continues to present all of us with our own challenges. But our students have always been a resilient group.
Whether we're talking about Clinical Massage Therapy or Health and Wellness Coaching, science backs up the observation that there is joy in helping others. One summary of the research breaks it down pretty simply: Showing compassion and helping other people improves your own well-being, health and happiness. Another study shows helping others regulate their emotions helps us regulate our own emotions and decreases symptoms of depression.
Watching our community exhibit this joy and knowing they have a lifetime of those experiences ahead of them brings me and our staff happiness.
People come to Soma to create a better future, to be their own boss, to be an example to their own children. Seeing students persevere and show resilience through many different personal situations motivates me in my job every day. It's why I love what I do. It's also why I'm not surprised to see students and graduates show resilience in the face of the pandemic as they focus on helping others.
This year, Soma graduates have been front and center in helping people.
Karla Garcia, a recent graduate of our Clinical Massage Therapy Diploma Program, is a pastor, nurse, and now, a massage therapist whose life is dedicated to helping people every day. Abdul Algha spent nearly 25 years as a physician with the United Nations before coming to Soma to learn clinical massage therapy and now works as a lymphatic specialist and clinic director. Two of our Health and Wellness Coaching Certificate Program graduates turned instructors, Niashani Washington and Pamela Johnson, became National Board Certified Health & Wellness Coaches and are now making a major impact on the lives of their clients and their students. The incredible and inspirational stories of helpers from Soma are endless.
During a time when it could be easy to focus on the negative or the challenges, our community helps me do the opposite. Watching our students and graduates dedicate themselves to helping others, and reaping the rewards of joy because of it, provides so much hope.