By Joan Hannant, Founder & CEO of The Soma Institute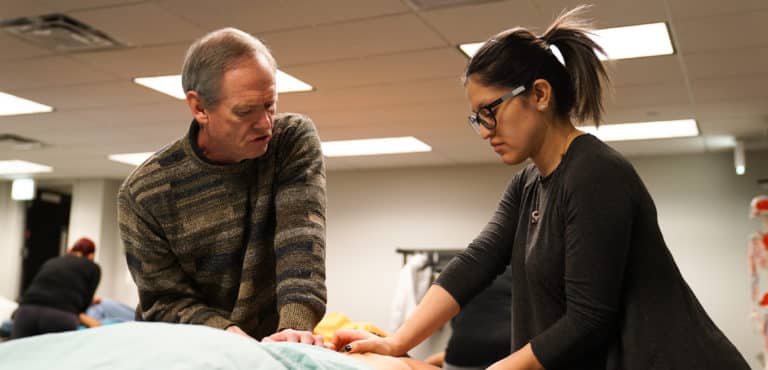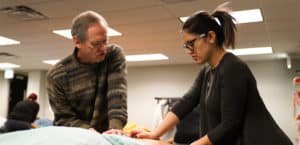 The Soma Institute is special. I realize, if you're reading this, you may be rolling your eyes right now and thinking, "Of course, the founder of the school thinks it's a special and unique place. She's biased." Full disclosure: I am biased. However, I've also been in this business long enough to know the clinical approach we take to training massage therapists does set us apart, and it is extremely valuable. It's not just my opinion. We get calls every day from employers looking to hire our graduates. Not all massages are created equal, and our training in clinical massage therapy is something both employers and clients want.
What is Clinical Massage Therapy?
Let's start with the basic statement that not all massages are created equal. Anyone who's ever had a bad massage can surely attest to this. However, it's not just about good vs. bad. It's about process and technique. While a relaxing massage in a spa with candles burning and soft music playing has its place, that is usually not a clinical massage.
Our Program Director Mike Hovi explains it well. "A clinical massage therapist assesses a client for problems that may be causing pain or discomfort, determines if clinical massage would be beneficial to the problem, then provides treatment with the goal of reducing the pain or discomfort," he says.
We don't just teach our students a one-size-fits-all massage routine. We are thinking clinically from day one. The clinical focus is woven into our curriculum. A clinical massage is not a choreographed massage, it's specific to what is going on in each client's body. Our clinical massage therapists do an evaluation and assessment of every client. They look at everything from a person's gait to their posture to what side of the body they carry a bag on to what they do for a living. Any of it could be causing discomfort or pain. Hovi says, "We teach our students to focus on the cause of the client's pain and/or discomfort and provide the appropriate treatment." Can Soma graduates still do full-body Swedish Massages? Of course they can! However, the clinical training opens so many more doors for our graduates. It provides more tools in their toolbox.
The Value of Clinical Massage Training
You may still be wondering why that treatment focus is so valuable. Clinical massage is often an indispensable part of clients' health care. It's a treatment they come back to again and again. It's something they want to put money aside for because it helps them feel better, perform better or sleep better. This is great for therapists and employers. Many of the employers we work with tell us they get better feedback from clients who get clinical massages. And clinical massage clients aren't just showing up with a holiday gift card one time and never coming back for another massage. They rebook and make regular appointments at a much higher rate than relaxation massage clients. Our graduates tell me they often get feedback from happy first-time clients who say they've never had a massage like this before.
Clinical massage therapists are problem solvers. You can imagine how valuable that is when it comes to sports massage. Many of our graduates go on to work in the sports industry. Most athletes aren't just looking to relax. They are looking to improve performance, and a clinical massage is an essential treatment for them.
Even if one of our graduates is doing a basic wellness massage, their clinical training allows them to be a huge asset to the client. They will often notice something in their assessment of the client that is causing pain or discomfort. Hovi describes it this way. He says, "Clinical massage therapy means knowing that the symptoms aren't the problem, but the result of a problem. Figure out the problem, deal with the problem, and the symptoms resulting from the problem will go away." Sometimes a muscle in the neck can cause pain in the hand, or a muscle in the hip can shoot pain all the way down to the foot. A clinical massage therapist can focus the massage as a treatment around what they find. Even if a client says they have no issues, and they are just stressed and want to relax, the stress is likely showing up somewhere in the body. A clinical massage therapist can find out where and, with a client's permission, really focus on treatment.
At Soma, we're equipping a unique brand of professionals, and their clinical training brings incredible value to both employers, clients and the therapists themselves.
To learn more about our program and get started today, head to https://soma.edu/.