By Joan Hannant, Founder & CEO of The Soma Institute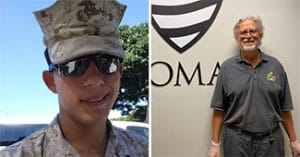 Veterans Day is a special time in this country. It's a day we all come together to honor and thank our military veterans. At Soma, we've had the honor of working closely with veterans for many years. One of the most noble things I've observed is the continuing desire they have to serve others. When I ask these students what appealed to them about clinical massage therapy, I get different answers, but almost every single time the students circle back to a desire to find a career where they are serving others - making someone else's life better.
Stephen Kelly is a Soma graduate. He also oversees the Supervised Clinic at Soma twice every week. At age 65, he left his career as an engineer and began looking for something new. When he learned about the research showing people who suffer from PTSD can benefit from massage therapy - he had his next mission. He would attend The Soma Institute to get a Clinical Massage Therapy Program diploma and begin helping others.
The benefits of massage therapy for military veterans has been increasingly studied over the last few years. The results are quite impressive. The studies show everything from massage therapy benefiting service members suffering from chronic pain to massage contributing to lessening rates of addiction and suicide among veterans. Many veterans, like Stephen, are drawn to careers in massage therapy for this reason.
Stephen's desire to serve others didn't end when his military career did, and it didn't end when he graduated and launched his new career. He wanted to do more. Now, he's helping dozens of students at Soma every year through his role overseeing the Supervised Clinic. He also spent time in the past as a tutor and teaching assistant.
Kevin Trujillo is another great example. Kevin was in the United States Marine Corps for five years before coming to Soma. Between high school athletics and his military service, Kevin dealt with a few injuries that led to surgery and constant work with a physical therapist. It got him excited to learn about new ways to heal pain. He joined our Clinical Massage Therapy Diploma Program last year and is set to graduate soon. His ultimate goal with this education is a familiar one - he wants to serve others.
Kevin is passionate about coming alongside fellow veterans who are experiencing pain and don't have a release. He believes he will be able to relate to veterans who are in pain on another level. He says serving as a massage therapist would be a continuation of serving his country and putting others first. Kevin's story is inspiring. What an honor it will be, he says, to help his brothers and sisters who have fought for the same thing he has.
We all think about special people on Veterans Day based on our personal experiences and connections, but the most important thing I can say today to all of you is - THANK YOU! Thank you to every veteran who has served this country. We are indebted to you for your service.
Personally, today I'll be thinking about the inspiring students, like Stephen and Kevin, I've had the pleasure of working with. It's an honor to be able to train you in a career that allows you to continue to serve others. Thank you for motivating me every day, and thank you for your service!