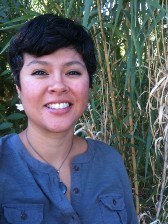 "I enjoy possessing a skill that enables me to facilitate healing in others--- and being able to practice my skill anywhere, anytime."
Ingrid Reyna graduated from Soma's Clinical Massage Therapy program in 2001 and has since landed a job at the University of New Mexico Hospital. She practices massage therapy on the staff and patients via The Arts & Medicine program funded by the hospital.
In Her Words....
"This, by far, has been the most rewarding job in my massage career. I also enjoy learning about myself while helping others. Being a massage therapist or any other kind of therapist where you are facilitating healing in others is the best way to explore your own self."
Ongoing Education:
"Apart from Soma giving me an excellent education in clinical massage therapy, my experience there has been a stepping stone in furthering my education within the alternative medicine field. I have recently received a Masters in Oriental Medicine from the Southwest Acupuncture College."
Career obstacles since graduation:
"The only obstacle I encountered since graduating in 2001 from Soma was trying to maintain a steady practice while attending school full time. I overcame this hurdle by maintaining a positive attitude and working consistently at the Whole Foods Market chair massage station where I met a lot of loyal clients that kept my practice going while finishing my Bachelor and Masters degrees."